Some lovers and fans of Big Brother Titans housemates Olivia and Thabang have created a WhatsApp group to mobilise support for them.
According to them, they would love the two Nigerian and South African to go into a relationship.
Meanwhile, Olivia has been making some move toward Thabang who said she only come to her when she's drunk as such he won't take her seriously unless she approach him when she's not intoxicated by alcohol.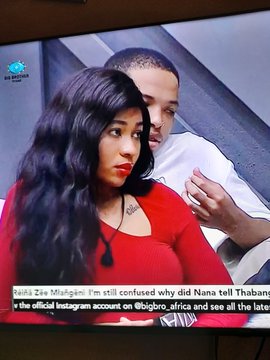 Olivia on her part only approach Thabang every Saturday night after she might have taken alcoholic drink and will not push further till the next Saturday party.
Their shippers are, however, urging the reality stars to quickly build a relationship.
Nigerian Big Brother Titans Reality TV stars Olivia, Nana, and Yvonne have all ganged up against Jenni O as Miracle OP advises them about the bad side of Jenni O and her spiteful ways.
Recently Jenni O has been spending some intimate time with Juicy Jay. She clearly fell for his charm despite Juicy Jay spending a lot of time with Yvonnne.
At the recent Saturday night party, Jenni O confided in Nelisa and revealed that she felt neglected and betrayed by Juicy Jay and Yvonne after they shared a couple of smooches. Juicy Jay immediately put Jenni O in her place by clearing the air.
On Tuesday afternoon, a livid Miracle OP had a heart-to-heart with Olivia, Nana, and Yvonne warning them to be careful of Jenni O's recent spiteful ways. This comes after Khosicle was nominated for eviction by Jenne Li, with Miracle feeling that his friend Mmeli was influenced by Jenni O.