Korra Obidi a Nigerian American Dancer turned musician's husband Dr Justin Dean has revealed why he is filing for a divorce.
Dean made this known through his Instagram account after he said he's done with the marriage.
According to him, he doesn't like the way his wife treats him.
The sports Doctor said he supports his wife in whatsoever she does but doesn't get the same treatment from her.
Read Also: 41-year-old-man-allegedly-rape-17-year-old-girl-in-ibadan
bandits-kill-uk-based-nigerian-woman-who-returned-to-bury-her-mother
The father of two also advised his followers to know their worth so they won't be treated in a way they do not like.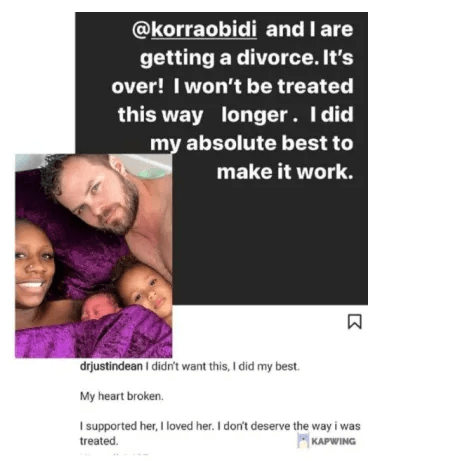 Reacting to her husband's post the dancer and mother of two confirmed the divorce news with a post on Instagram by stating that divorce is what it is.