This article reveals the Champions League all-time top scorers. Some of the greatest goal scorers in history have competed in the Champions League. It is the premier club competition in Europe and possibly the entire world, and it has hosted a large number of football legends.
In the 1990s and 2000s, strikers like Raul and Andriy Shevchenko reigned, but Cristiano Ronaldo and Lionel Messi have elevated the art of scoring to a completely new level.
Who scored the most goals in the Champions League overall?
Cristiano Ronaldo has scored the most goals in Champions League history, as seen in the table below (including the European Cup). His bitter adversary Lionel Messi is right behind him.
Between those two and the rest, with Barcelona striker Robert Lewandowski coming in third, there is a wide gap.
Raul rounds out the top five, followed by Karim Benzema in fourth. The best of the rest include Ruud van Nistelrooy, Thomas Muller, and Thierry Henry.
The table below lists the Champions League all-time top scorers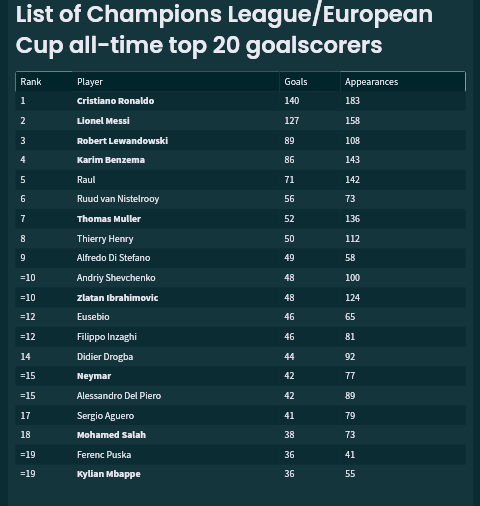 The majority of the players on the list of all-time goal scorers are either active or were during the modern Champions League era, which began in 1992 and added more continental competition to the modern game.