The winner of Multichoice Qatar World Cup raffle draw game Phyna is filled with joy as she jets out to watch the ongoing football game live in Qatar.
Phyna who is always expressing her gratitude for every win she acquires since gracing the Big Brother Naija Reality TV took to her Twitter handle to share her joy of receiving another all expense paid trip to Qatar World Cup with a business class flight ticket.
"Business class flight to Qatar. God you're too much, all this for me", she tweeted.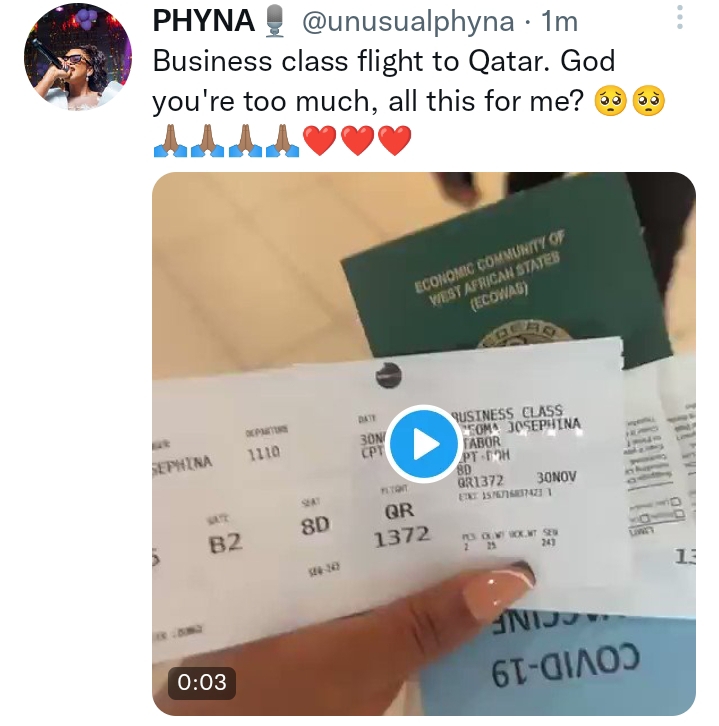 Dynamic News Hub reports that the second female winner of Big Brother Naija Reality TV show Ijeoma Josephina Otabor popularly known as Phyna has issued out tips on how to quiet h@ters in a new post.
The season seven winner who has rounded up her sponsored trip to South Africa alongside the other housemates gave out the short but powerful tip in a post she made on Instagram.
According to the entertainer is best for one to work hard and allow his or her enemies to live like they are dreaming.
"Work while they tattle and live like they dream", she wrote.
On seeing the post celebrities who follow her on Instagram flooded her comment section and Groovy was not exempted.
Groovy replied with the word" wahala" as Phyna asked how much it he wants to buy from her.
A fan of the reality star with the username @explainingphyna gave another definition of her post.
"Make I explain again She simply means When people are ranting, trolling,blabbing, poking mouth in what did not concern them You keep working and focusing on your brand And You will definitely live the live those blabbing and trolling can only dream of".
While @LadyXan_ wrote "Let them continue gossipping and trolling while Josephina Ijeoma Otabor aka Phyna continue working and making millions. Phyna the real Queen of every kingdom 💯Stay safe and enjoy your trip to the maximum".
Recall that Phyna and Groovy have been in the news since they left for South Africa and with an open show of affection to one another.
The two love interest were together all through their stay giving the public the hope that the groophy ship is still sailing.
Recently Groovy made a post stating that his honeymoon trip to South Africa is gradually coming to end while Phyna also react.