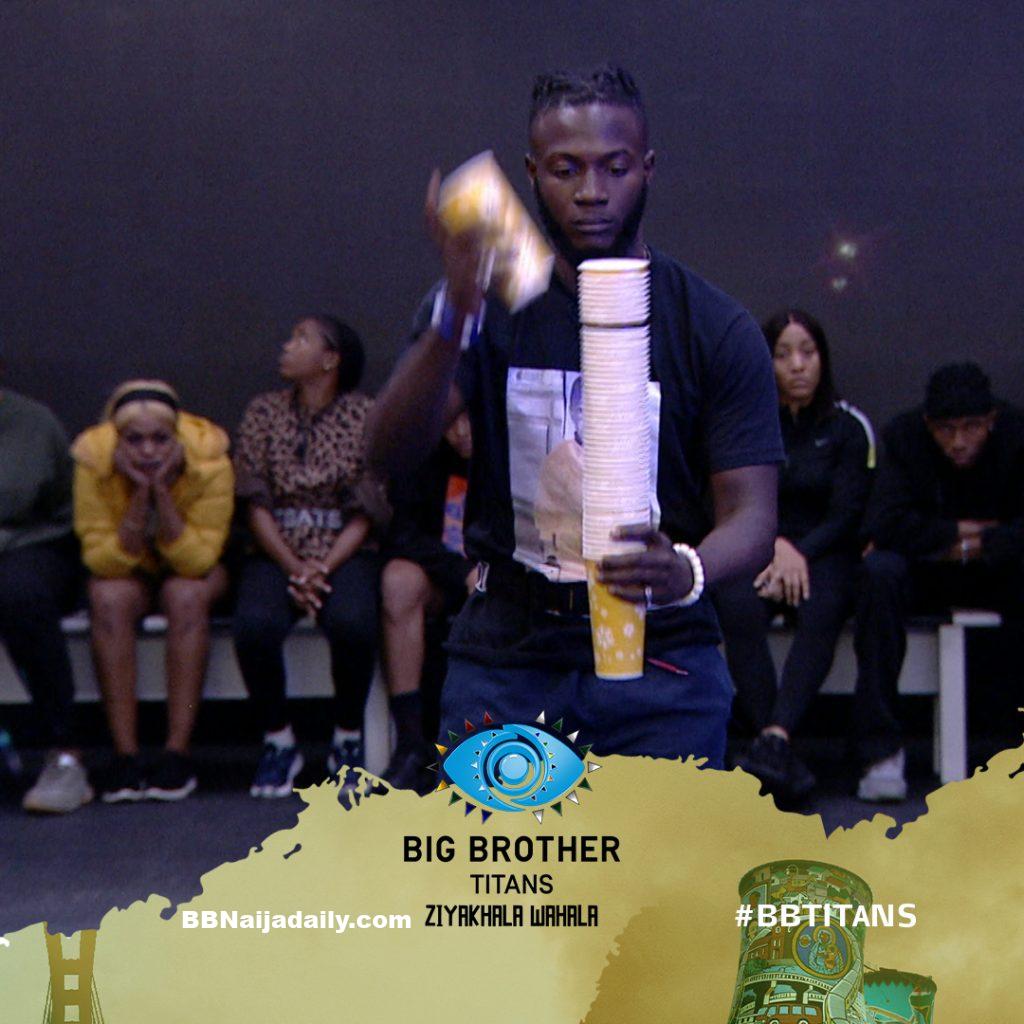 Still on BBTitans 2023, the housemates had another competition for the immunity from Nomination at the arena for the Head of House Game. The acting HoH, Ipeleng, was however, exempted from participating in the competition.
The winner of the HoH competition stands a chance of enjoying several benefits: he will be awarded immunity from nomination with exclusive access to the Big Brother lounge. The HoH tittle does not, however, has any veto power attached to it this week.
This week's edition of the HoH game is a single-phase competition. The housemates were required to take part in the game one after the other. The time allotted for each of the housemates to complete the task was four minutes. If none of the housemates completes the task within this time frame, the incumbent HoH, Ipeleng, retains the tittle.
By now, you will be wondering what this task is all about! It is really an interesting one!
There was a stack of 50 paper cups placed on the table. Each of the Housemates was asked to remove and place the cups on top of each other within the allotted time of 4 minutes. The Housemate that completes this task withing the shortest time would be declared the winner of the HoH game.
Check the Result of the BBTitans HoH game below:
Blaqboi – 1 min 02 sec
Ebubu – 1 min 44 sec
Miracle Op – 1 min 14 sec
Justin – 1 min 45 sec
Nana – 2 min 36 sec
Kanaga Jnr – 1 min 18 sec
Yvonne – 1 min 47 sec
Blue Aiva – 1 min 41 sec
Thabang – 1 min 25 sec
Tsatsii – 2 mins
Khosi – 1min 15 sec
Blaqboi was the fastest among all the Housemates- he was able to complete the task within 1min 02 sec and that's how he was decleared the winner of this week's HoH game.He now enjoys the attached benefits- immunity from nomination and exclusive access to the Big Brother lounge. He also invited Blue Aiva to share the Big Brother lounge with him. What do you say to Blaqboi?
BBTitans 2023