The famous Nigerian Medical doctor and social media content creator, Aproko doctor, warns Nigerian women who are planning to get BBLs.
NB: For those of you that don't know, Brazilian Butt Lift (popularly called BBLs) is a cosmetic surgery where some fats are transferred so as to increase the size of the backside. It is mostly performed on women with slim structure. Despite the fact that it is a very costly and pain-inducing process, most slim women do pay surgeons for it. But the problem now is that some women, on trying to circumvent paying the outrageous prize involved, end up employing the services of unqualified medical doctors or some of these roadside patent medicals.
His advice was based on the death of a 20-year-old lady who lost her life as a result of serious medical complications from Brazilian Butt lift.
The Aproko doctor also went on to stress on the medical risks associated with Brazilian Butt lift. He advised that in situations where the women can't do without it, they should employ the service of a qualified surgeon for the procedure.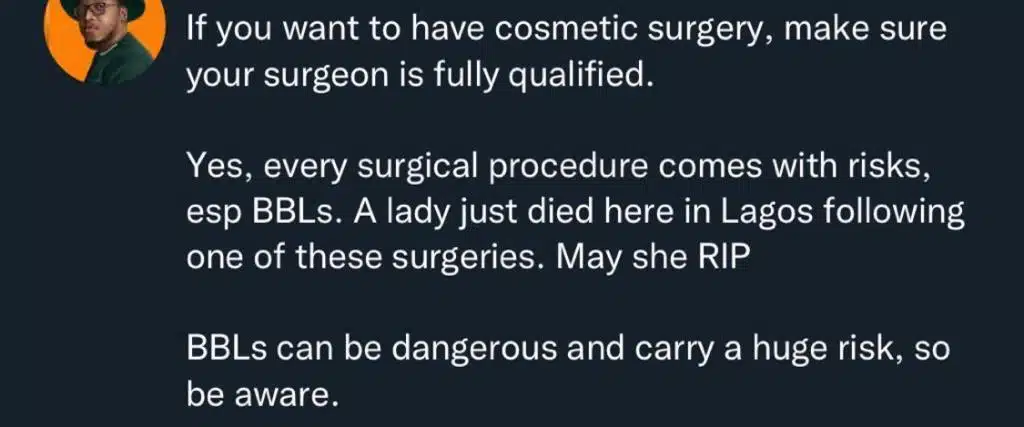 In his words:
"If you want to have cosmetic surgery, make sure your surgeon is fully qualified.
Yes, every surgical procedure comes with risks, esp BBLs. A lady just died here in Lagos following one of these surgeries. May she RIP
BBLs can be dangerous and carry a huge risk, so be aware."