25 APC youths to jog: The All Progressives Congress (APC) 25 youths in South-East and South-South regions jogging team that left Yenagoa en route to Lagos to drum support for the party's presidential candidate, Bola Tinubu, has arrived Ondo State.
The youths, under the auspices of South-East/South-South Jogging for Tinubu Campaign Initiative, constituted a team of fitness enthusiasts to embark on the 6-day exercise.
According to a statement issued on Sunday by Mr Samuel Adaga, the Coordinator of the exercise, the 25-member team remains in high spirits and optimistic about completing the expedition safely.
The News Agency of Nigeria (NAN) reports that the jogging was flagged off at Bayelsa secretariat of APC by the state APC Chairman, Dr Dennis Otiotio.
Adaga said that the team has enjoyed a warm welcome by APC leadership at the corridors of the Yenagoa-Lagos route at Delta, Edo and Ondo States as the team hopes to terminate the expedition on Oct. 12 in Lagos.
The team will visit Tinubu, who is expected to receive the volunteers in Lagos.
According to the statement, the team drew at least two representatives from each of the 11 states in the South-East and South-South, and executive of the group.
He explained that the aim was to raise awareness amongst the populace across settlements along their route from Yenagoa to Lagos.
NAN also reports that eight members of the 25-member team are female.
Thousands of supporters of the APC on Sunday embarked on five million solidarity walk in support of the Presidential Candidate of the party, Sen. Bola Tinubu and his running mate Sen. Kashim Shettima in Lagos State.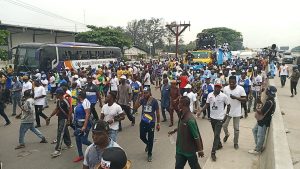 The News Agency of Nigeria (NAN) reports that the political rally was organised by the Chairman of Lagos State Parks and Garages Management, Alhaji Musiliu Akinsanya popularly called MC OLUOMO in collaboration with "Team Lagos, Nigeria', a support group.
The rally was also to show support for the re-election of the Lagos state Governor, Mr Babajide Sanwo-Olu, his running mate, Dr Obafemi Hamzat and all the APC candidates in the state.
The APC supporters, who defied the early downpour, converged at the entrance of Teslim Balogun Stadium in Surulere as early as 7.00a.m.
The rally was terminated at Bolade Oshodi with a funfair at noon.
25 APC youths to jog… Read our-daddy-is-back-excited-eniola-badmus-celebrates-as-tinubu-returns-to-the-country